Massachusetts boasts some of the best solar incentives and rebates in the US!
How are MA residents saving 38-58% and owning their power?
When you pay some of the highest electricity rates in the US, you will see savings on day 1 after adding solar panels to your home.
MA has the most expensive electricity rate in the US.
Your electric company charges you by the kilowatt hour (kWh) and in Massachusetts your electricity rates are an incredible $.47 kWH! To compare, the majority of US states are less than $.11 kWh. MA electric companies also raises their rates 1-2 times each year, and in the last 7 years have increased their rates by 46%.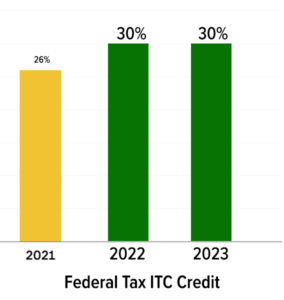 In 2022/2023 The federal government will take care of 30% of the total cost of your solar system through the ITC tax credit. This incredible tax credit makes it a no-brainer to have solar panels in RI.

The system must be placed in service during the tax year you will be claiming and the credit can be claimed over more than one year if needed. Professional installation by a licensed solar company in RI is recommended.
The MA MREC Program (Massachusett's Renewable Energy Credit) offers incentives for residential properties that add solar panels to their home. This green energy program pays home owners a premium for all the electricity their solar panels generate for 25 years. These credits will generate a credit on your electric bill, resulting in you receiving a check from your electric company.

For example: The average MA home uses approximately 10000 kWh of electricity per year. This electricity would be generated by your solar system and tracked. Through the MREC Program you would receive a credit for up to .03 cents per kWh for the electricity your home created. This would result in a monthly MREC check for $300 every year for 25 years , and a $0 electric bill.
Ready to see how much you could save by going solar?
Calculate your savings online, instantly!
We'll survey your roof using Google Earth Satellite images and deliver your free solar savings report.
See how much you could be saving with solar.